Deployment
Once an experience is built, it's time to deploy the experience so that others can open and view your experiences. This is done by creating deployments.
Create Deployment
To create a deployment:
Go to the Experience page.
Find the section named Deployment and click on + New Deployment.
At this point, toggle the LIVE switch to expand the deployment options. This will also publish your experience at the provided link in the expansion.
This will show up options with a QR code that links to the deployment viewing page.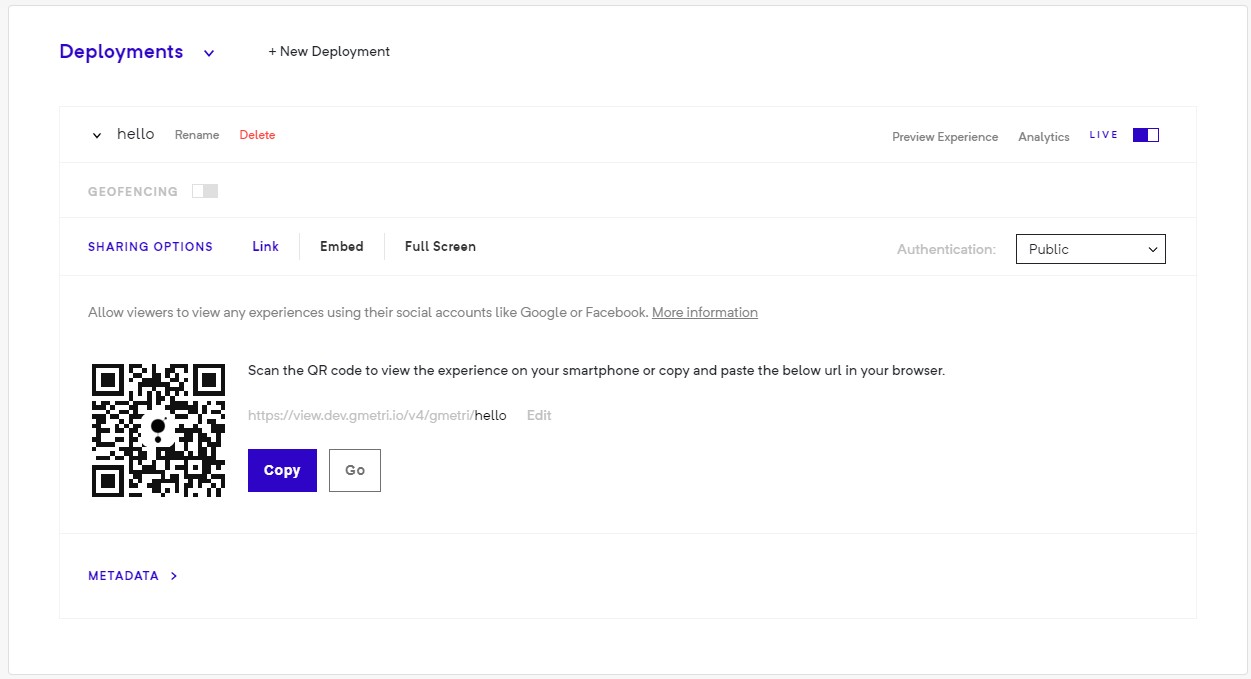 TIER LIMITS
Free accounts support only 1 live deployment at a time.
Professional accounts support 10 live deployments at a time.
Want more? Upgrade!
Deployment's Card
Inside of the
Name of your deployment

Rename
Delete

Preview Experience
LIVE toggle switch
GEO-FENCING toggle switch
Sharing options:

Link
Fullscreen

Authentication (Choose who can see your deployment)

Social
Public
Editor
Viewer Group based
Once you create an experience you can easily share it with everyone by creating a deployment. You have complete control over who can view an experience you created. This is done using Viewer Groups.
Tweaking Deployment
To enable people to view the experiences you create on the GMetri Platform, one needs to:
Create a deployment for the experience.
Make the deployment live.
Viewer restrictions
You can choose who gets to see your experiences. This is done by selecting a particular Viewer Group.
Enabling the GEO-FENCING feature will restrict users based on location parameters.
TIER LIMITS
Free accounts support only 50,000 lifetime views acorss experiences.
Want more? Upgrade!